Bell Works Chicagoland is the next up and coming Metroburb, an idea conceived by Somerset Development's President and CEO Ralph Zucker as a new innovative space to work, play and live. The idea of the metroburb lies in the convenience and excitement of a metropolis that is packaged for the comfort and community of the suburbs.
The original Bell Works was first realized in 2013 with the makeover of the former Bell Labs facility in Holmdel, New Jersey. The facility, once home to the most ground-breaking advances in science, lives on as a first of its kind community bursting with business, entertainment, and culture.
Moving forward, Somerset has begun the renovation process at the former AT&T corporate facility in Hoffman Estates, IL, where they are working to breathe new life into the 150-acre campus. Bringing a dream this large to life requires the collaborative effort of many organizations. Working alongside Colliers International, Wight & Company, The Garibaldi Group, NPZ Style + Décor and Alexander Gorlin Architects, ML Group Design and Development has taken on the integral role of construction management.
CONSTRUCTION MANAGEMENT AT BELL WORKS
As the construction management team, it is our mission to represent the interests of our client while directing many teams from several companies to complete a successful project. This is done by taking into account many factors related to cost, time, quality, and function.
Predictably, it is not always a simple feat managing scores of people and small details while working on a construction project. That is why it is critical to be able to foresee potential hiccups along the way and provide the best solutions while keeping a clear vision of our client's objective.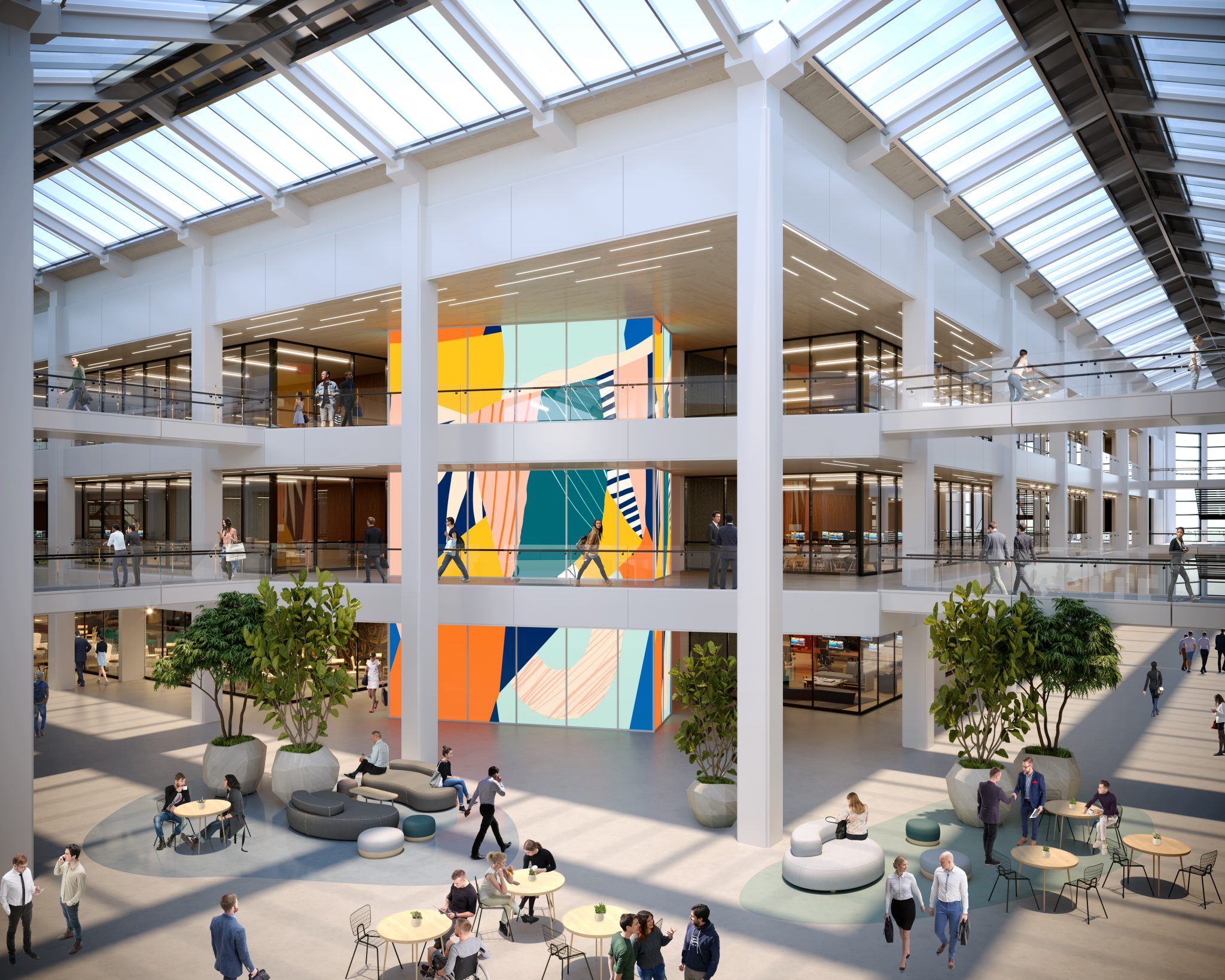 "Here at ML Group we are very proud to have been selected as the construction management team for Bell Works Chicagoland. Our typical turnkey approach to projects provides the unique understanding and ability to pull teams together in order to meet project goals and produce the best results on time and budget", says Mordy Lebovics, ML Group CEO.
Among the most challenging aspects of Bell Works Chicago are the major interior changes taking place to create a more open and inviting space. In total, the renovations will affect a significant portion of the building's interior structure. This includes the removal of a pedestrian bridge that hangs throughout the center of the facility and scaling back balconies to create the atrium that will take center stage. To accomplish this, our firm has coordinated strategies for the teams of specialized contractors working to develop Bell Works Chicagoland.
A NEW KIND OF COMMUNITY
Of the many positive things happening at Bell Works Chicagoland, one of the most valued is the partnership with the Village of Hoffman Estates. Mayor Bill McLeod has been a strong supporter of the project due to the opportunity and growth it will bring to the village.
Once finished, the facility will include over a million square feet of easy-to-occupy office space and 60,000 square feet of restaurants and shopping destinations as well as additional conference and storage space.
Somerset's vision of the metroburb provides an opportunity to redefine the suburban lifestyle, moving towards a new and more integrated way of living that has not always been possible outside of urban meccas like Downtown Chicago, Los Angeles or New York City.
Bell Works Chicagoland represents improving the human experience by raising expectations and pushing boundaries. This ambitious project aligns with the forward-thinking spirit that defines ML Group's approach and we are gratified as we see this vision come to life.