The dramatically transformed exterior and amenity spaces at 21 E. Chestnut are nearing completion with architecture, interior design, permitting, entitlements, and construction all happening within an accelerated 8 month timeline.
Originally an aging 162-unit condominium building located in Downtown Chicago, 21 E. Chestnut characterizes our strategic value-driven turnkey approach with its transformation into a luxury multifamily apartment product, with every stage of planning, design and construction by ML Group.
 NEW MULTIPURPOSE LOUNGE
Previously an underutilized storage room, we are repurposing the space into a multifunction lounge to maximize value by removing old lockers and bringing in light from newly created windows for a bright and relevant space for tenants. Natural tones accented with on-trend neon in the dining and soft seating areas create a modern and sophisticated environment great for hosting guests or mingling with other residents, while a private conference room and individual work pods create convenient WFH functionality.
 REIMAGINED FITNESS STUDIO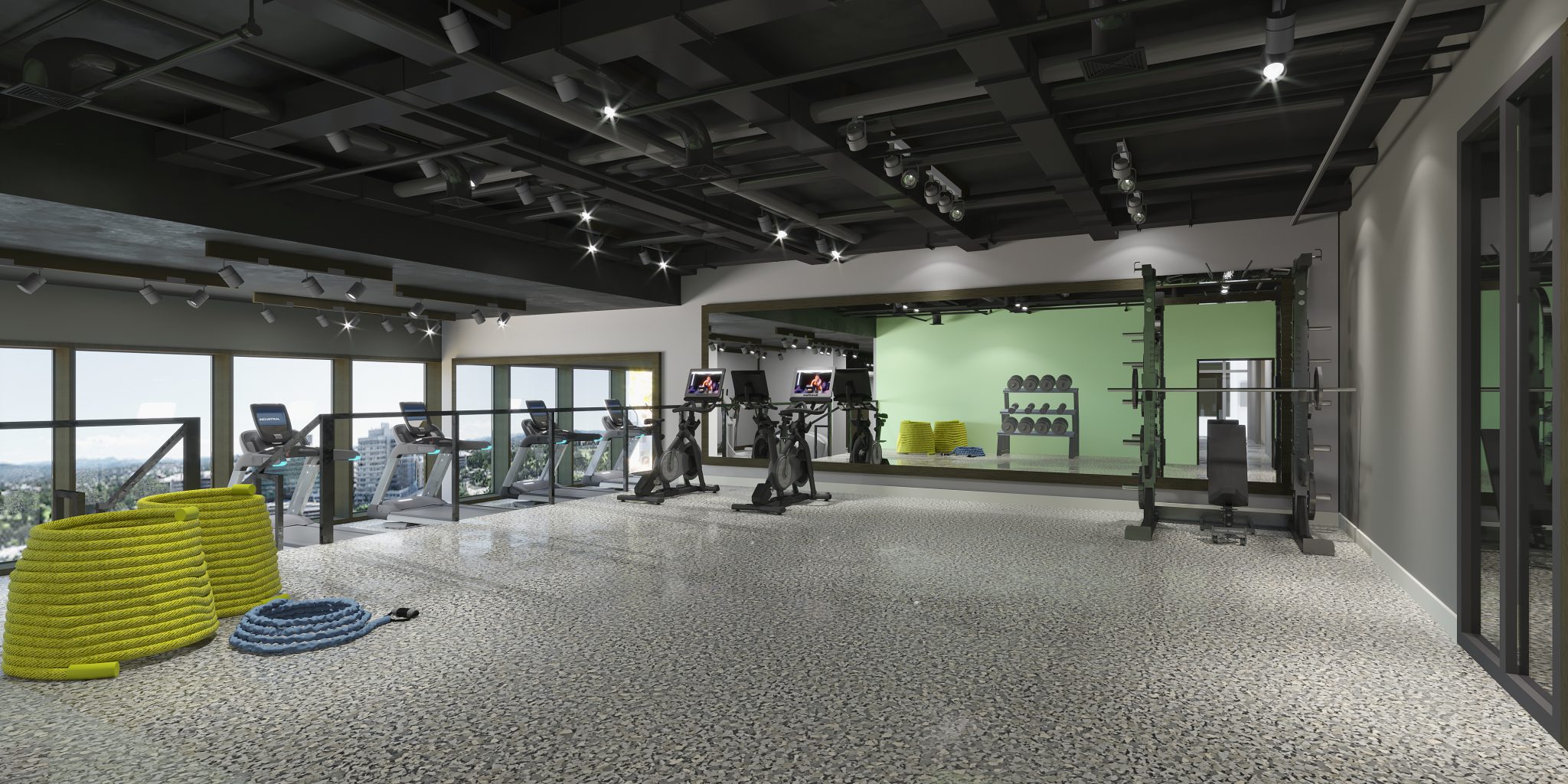 21 E. Chestnut's multi-level gym was originally a series of meeting and storage rooms that are being transformed into what will be a sizable fitness center equipped with weight training, cardio, and a private virtual fitness/yoga and pilates studio. The challenge of low ceilings and dark rooms will be remedied with a loft-like open ceiling and the strategic location of new windows, paired with a streetwear-inspired palette.
THE ENTRY EXPERIENCE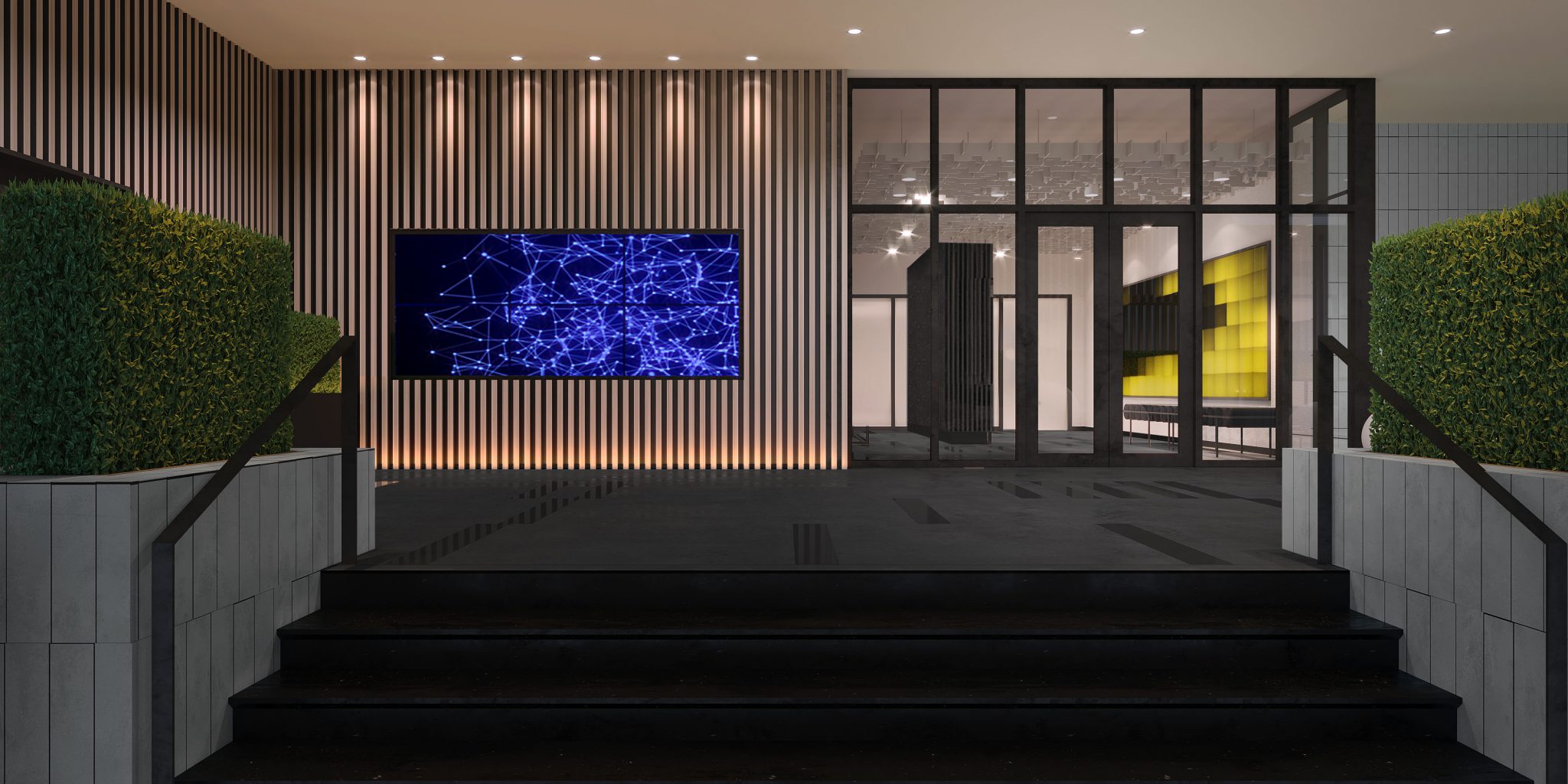 What was once a dark and unwelcoming covered entrance is being elevated into an urban entry oasis, with abstract-patterned porcelain flooring, contemporary landscaping, and a curated digital LED screen art installation to create an exciting sense-of arrival and warm welcome. Slatted wood-look wall panels prove to be an effective solution to covering the existing aging brick walls and a new entry storefront system ensures the transformation is comprehensive.
In the lobby beyond, challenged with a small footprint and no separate mailroom, the mailboxes are fashioned into a ribbed glass centerpiece adjacent to a Danish-inspired bench and art by local emerging talent. A baffled ceiling treatment adds texture, as well as providing necessary acoustical properties to help mitigate sound, completing the newly refined lobby experience.
EXTERIOR FACELIFT
Transforming the exterior from beige and uninspiring to white with crisp black windows brings 21 E. Chestnut forward into the 21st century with an appealing yet timeless color scheme, contextually appropriate in its environment of more recently built modern towers.
 STREETFRONT PRESENCE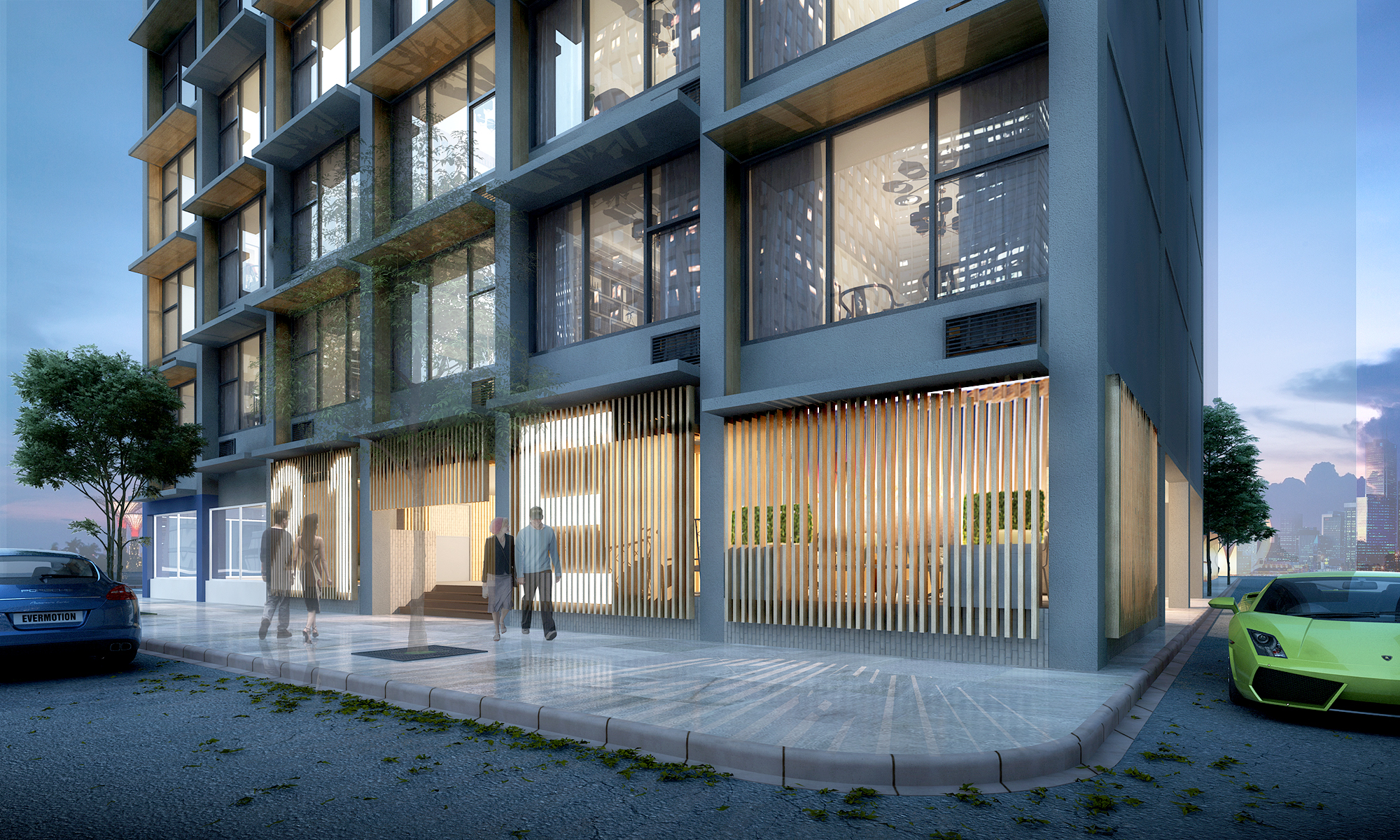 To design an impactful streetfront presence it was critical to tell the story of the new luxury product contained within. Wood-look slats layered over the previously uncovered openings serve as a contemporary and memorable solution, as well as fashioning a partially enclosed entry area for an intimate and artful arrival experience for tenants and guests.